This was highlighted and sent out by our good friend Beth Heath, her team, and her wonderful We Can Be Heroes Foundation
More than almost anyone, she has kept alive the memory of Benghazi with her annual conferences. She has had a number of the CCNS members as speakers at the conference over the past decade.
This is what she sent out this week: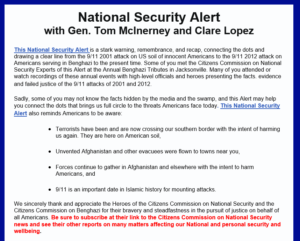 This National Security Alert is a stark warning, remembrance, and recap, connecting the dots and drawing a clear line from the 9/11 2001 attack on US soil of innocent Americans to the 9/11 2012 attack on Americans serving in Benghazi to the present time. Some of you met the Citizens Commission on National Security Experts of this Alert at the Annual Benghazi Tributes in Jacksonville. Many of you attended or watch recordings of these annual events with high-level officials and heroes presenting the facts. evidence and failed justice of the 9/11 attacks of 2001 and 2012.
Sadly, some of you may not know the facts hidden by the media and the swamp, and this Alert may help you connect the dots that brings us full circle to the threats Americans face today. This National Security Alert also reminds Americans to be aware:
Terrorists have been and are now crossing our southern border with the intent of harming us again. They are here on American soil,
Unvented Afghanistan and other evacuees were flown to towns near you,
Forces continue to gather in Afghanistan and elsewhere with the intent to harm Americans, and
9/11 is an important date in Islamic history for mounting attacks.
We sincerely thank and appreciate the Heroes of the Citizens Commission on National Security and the Citizens Commission on Benghazi for their bravery and steadfastness in the pursuit of justice on behalf of all Americans. Be sure to subscribe at their link to the Citizens Commission on National Security news and see their other reports on many matters affecting our National and personal security and wellbeing.
Be safe.
Tribute Team