The Council on American-Islamic Relations' (CAIR) punishment for an antisemitic rant, coming from an employee with a history of antisemitic hate speech, appears to be two months off.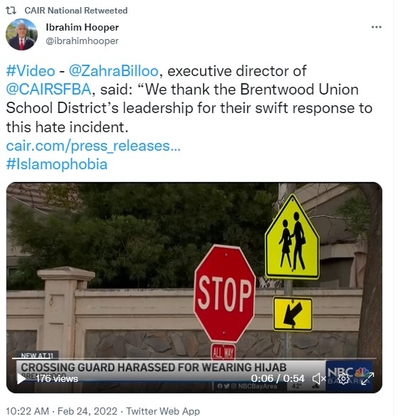 Zahra Billoo has returned to work as executive director of CAIR's San Francisco/Bay Area chapter, just two months after announcing a "sabbatical." On Thursday, CAIR national and its spokesman Ibrahim Hooper promoted Billoo's appearance on the local NBC affiliate, discussing an incident involving a school crossing guard who wears a hijab.
Ironically, the incident involved someone uttering bigoted statements toward a school crossing guard who wears a hijab.
Billoo said she was taking a sabbatical in December, just weeks after the Investigative Project on Terrorism (IPT) and others reported on a speech she gave to the anti-Israel group, American Muslims for Palestine (AMP).
She warned her audience to "pay attention to the polite Zionists. The ones that say, let's just break bread together." If they support Israel's right to exist, "they are your enemies. There are organizations and infrastructures out there who are working to harm you."
That harm posed by Jews comes in the form of a "a well-funded conspiracy" to push "Islamophobia … to marginalize us, to imprison us, to deport us, to silence us."
"We need to pay attention to the Anti-Defamation League. We need to pay attention to the Jewish Federation. We need to pay attention to the Zionist synagogues. We need to pay attention to the Hillel chapters on our campuses, because just because they're your friend today doesn't mean that they have your back when it comes to human rights. So oppose the vehement fascists, but oppose the polite Zionists, too."
At the same event, CAIR's national Executive Director Nihad Awad also rejected Israel's right to exist, calling its largest city, Tel Aviv, "occupied."
"And inshallah [God willing]," Awad said, "it will be free later."
Challenged to refute Billoo's hateful comments, CAIR instead posted a statement expressing pride in "the courage she demonstrates in her civil rights work" and saying she is the victim: "we strongly condemn this online smear campaign against our sister and colleague, Zahra Billoo."
ADL CEO Jonathan Greenblatt called Billoo's remarks – and CAIR's defense of them – "both blatant acts of antisemitism."
Those actions helped convince the Simon Wiesenthal Center to include CAIR in its latest list of the world's worst antisemites.
"Instead of putting her in her place and drawing a red line, CAIR has now decided as a quote-unquote 'civil rights group,' that ends when it comes to members of our Jewish community," said Associate Dean Abraham Cooper. "That's a devastating development and we call upon CAIR to take the appropriate steps to correct this outrage. It's a very dangerous one. It injects Jew hatred directly into our communal life."
Despite the public defiance, Billoo announced her "sabbatical" nine days later, casting it as fatigue from her demanding job and "a prolonged Zionist onslaught."
Remember that, in 2019, Billoo was appointed to the board of the national Women's March, only to be forced out less than three days later because March leadership "found some of her public statements incompatible with the values and mission of the organization."
March officials did not elaborate. But by then, Billoo had repeatedly compared the Israeli military to ISIS, writing in 2018 that both "are violent, immoral gangs. They're literally baby killers." A search of her Twitter feed finds at least six other examples of her making the same slur.
Just like CAIR did after November's antisemitic rant, Billoo publicly claimed that she was the victim of "an Islamophobic smear campaign."
Meanwhile, CAIR is not the only player in this episode employing specious judgment.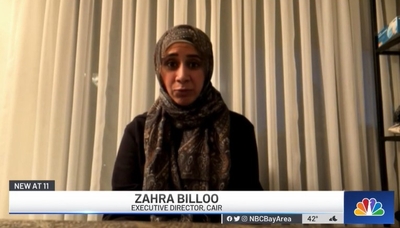 If someone urged people to "pay attention to" all mosques and Muslim student organizations because "they are your enemies," would a major market network affiliate use that person as a credible source? It seems highly unlikely.
But NBC Bay Area news turned to Billoo for comment in its story about the crossing guard incident. A group of anti-mask protesters reportedly approached the guard, saying, "This is not the Taliban, this America. Take off your mask" in reference to her hijab.
CAIR's San Francisco chapter issued a release thanking school district leaders for their response to the incident. "Bigotry," Billoo said in the statement, "will not be tolerated or ignored."
Good thing for her that CAIR doesn't embrace that same principle.
This column was originally published by The Investigative Project on Terrorism.
The views expressed in CCNS member articles are not necessarily the views or positions of the entire CCNS. They are the views of the authors, who are members of the CCNS.